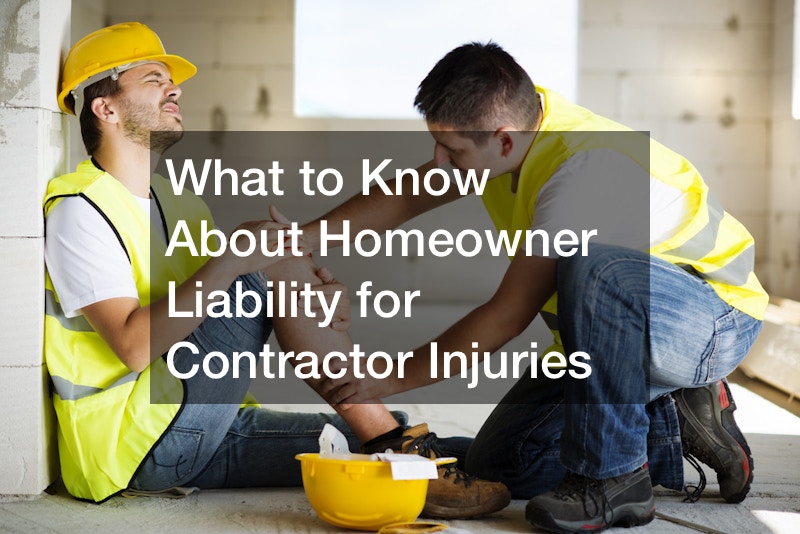 When we hire a contractor to work on our house, we may not consider whether we have any liability for injury to the contractor's employees. Injuries can and sometimes do happen when contractors work in our homes.
It is important to understand and know what our exposure may be if any contractor's employees are injured. Before any work begins, we need to confirm that our homeowner's insurance covers us in case of an accident resulting in a contractor's employee insurance.
Read further as we discuss the many occasions for repair work we may plan for our home and some issues we need to address.
Contractors Who May Work on Your Property
There are many contractors who, at any given time, may be working on your property. Homeowners can engage with job contractors specializing in remodeling, renovation, space conversion, room additions, and other various construction projects.
These projects tend to be more complex and beyond the scope of what jobs a maintenance person may undertake. Also, if the contracting job is for home electrical maintenance, you should work with a technician licensed and certified to work with electricity. Whenever workers work on important construction projects at the home site, it is necessary to understand the homeowner's liability for contractor injury limitations.
Some licensed contractors who may work on your home are electrical, concrete, framing, plumbing, HVAC, and many other contractors. Working with licensed and insured contractors, you should have confidence that the contracted work will be professional and adhere to local laws and regulations.
Common Injuries Contractors Experience on the Job
When you work with a contractor repairing, for example, the roof, there is always an opportunity for the roofer to have an accident. However, as professional as they may be, accidents can and do happen. It is also to keep up to date on what your homeowner liability for contractor injuries covers.
Some sobering facts to consider when hiring a contractor are that construction workers have 200,000 non-fatal injuries annually and, unfortunately, 1,000 fatal accidents. When an accident occurs, the homeowner's insurance policy may have exposure to a contractor's injury claim for accidents on your property.
Among the common accidents on your property are back injuries, broken bones, spinal cord injuries, burns, electrocutions, vehicle accidents, accidents with power tools, and exposure to toxic chemicals. The most common accidents on a property are falls, electrocution, electrical burns, being struck by an object, and being pinned between two objects.
A requirement of OSHA for contractors on most work sites is to have quick access to a first responder bag for their workers. Although the first responder bag is not required for residential properties, a contractor is still responsible for providing quick access to emergency medical supplies for their workers, like those found in a first responder bag.
Typical items found in a first responder bag, which may vary due to the worksite or hazardous conditions, include bandages, gauze tape, scissors, tweezers, elastic wraps with splints, and resuscitation devices. Start building your first responder bag with a checklist of supplies and a field guide for treating wounds and applying various medications, including antiseptics, antibiotics, antibacterials, analgesics, and antidiarrheals.
Hiring Insured Contractors
When considering hiring a local bonded and insured contractor, such as a local painting company, these are some suggestions to ensure hiring a dependable and reputable contracting company. It is essential to have homeowner liability for contractor injuries
Some tips for choosing the best contractor for your home project are:
Tip 1. Check with your local Better Business Bureau (BBB) for any reviews or comments.
Tip 2. Inquire about any references from the neighborhood or area.
Tip 3. For a big job, like foundation work, secure three bids for the project.
Tip 4. Visit past customers or references if possible.
Tip 5. Upon deciding on some potential contractors, meet with each separately and solicit a bid. Show them any blueprints you may have, give them a ballpark figure on what you are willing to spend, then request a complete bid for the project.
Tip 6. As a rule of thumb, the usual disbursement of construction funds for the project is 40% for materials, 40% for labor and associated expenses, and the remaining 20% for profit on the project.
Maintaining a Good Homeowners Insurance Policy
You must have the proper homeowner's insurance policy before hiring a contractor to begin any contractor work. These are some basic suggestions to protect yourself with adequate homeowner liability for contractor injuries.
Although this step in the process may be less exciting than others, it is imperative to ensure you have sufficient insurance coverage for all parties before beginning work.
These steps ensure you get the proper homeowner's liability insurance. 1. Decide what you will need to cover for the project. 2. Try to calculate the replacement cost and how much coverage you will need for the project. 3. Compile your personal and home information for insurance companies to expedite the process.4. Assemble at least three competitive insurance quotes for the property. 5. Explore the trustworthy index of each company and then decide which has the best package for you.
It should be noted, even with an excellent home insurance policy, typically 50%-70% is paid for the home's loss when filing a claim. As an example, if your home is worth $200,000, then the value to the homeowner would be around $140,000 for coverage of your possessions.
Sharing Tools and Equipment With Contractors
The construction industry is beginning to embrace a sharing economy where excess, idle equipment may be shared with other contractors. Idle equipment from one contractor may be shared or sublet to another needing the idle equipment.
Since owning and housing construction equipment is expensive, especially when setting up idle. For example, roofers may need extra scaffolding or an air compressor, and rather than making a significant investment in new equipment, they may sublet the equipment from another contractor with excessive inventory. Growth of the sharing economy is expected to increase to $335 billion by 2035.
Although any home improvement project calls for homeowner liability for contractor injuries, some projects may need more than others. One project with more potential for injury than others is roofing, where employee accidents or losing tools and roofing materials from the roof are always a potential problem.
Exercising Control Over Home Improvement Projects
Home improvement projects often begin as a great idea that, if not controlled, becomes a runaway nightmare. This may be especially true for large home improvement projects that can spiral out of control. Dream big on the front end, but tamper the excitement with a realistic approach by developing a detailed plan with a workable budget for project completion.
When contacting local driveway contractors for a large project like paving the driveway, ensure you budget to cover the entire project's costs. Considering a large project like paving the driveway can cost between $1,500 – $11,000, depending on the materials used, it is advisable to negotiate the best price from contractors. We want to be prepared for high anticipated costs and budget appropriately.
One of the first suggestions for maintaining control of a home improvement project is to ensure you have secured all necessary work permits. When the contractor is to begin work, we don't want to hold the project up due to the lack of required permits. Also, picking up your worksite materials can save contractor costs, especially for smaller home improvement projects.
Depending on the project, do your painting, tiling, or even finishing your floors when possible. Today, technology is much more friendly for the DIY person to work with than before.
Delegating Control to a General Contractor
To limit your homeowner's liability for contractor injuries, it is advisable to have proper documentation and responsibilities of both parties with a document such as Parties to the Agreement. Both the homeowner and contractor assign responsibility for the project with full disclosure of the party's names, addresses, and other identifying information.
A Scope of Work (SOW) should be written detailing what the project will encompass. For example, if the project is for hiring a septic pumping service, the contractor should define the entire project scope for the owner and their expectations for the job. Understanding at the beginning of the job with a well-defined SOW will help you to fully understand what to expect from the project and help negate any surprises at the project's conclusion.
Maintaining a Safe and Accessible Property
An excellent way to keep your property safe for workers and reduce the risk of accidents is to follow OSHA guidelines for your particular property type. There are several suggestions and rules, and regulations to ensure safe workplaces. OSHA guidelines regulate an employer's responsibility toward maintaining a safe work site for construction workers.
Among the OSHA regulations for work sites include removing known hazards, having tools and equipment in good working order, ample space for ingress and egress to the project site, and having clear and honest communication of any work site hazards.
For example, a foundation repair contractor should ensure workers wear the proper protective gear. Also, the contractor should ensure all affected power is shut off, and the proper technicians can work with gas and electric lines during the foundation repair.
Warning Contractors of Hazards Well in Advance
A homeowner must warn contractors, guests, or inspectors of any known hazards on their property. A hazard could be faulty steps that could fail, the risk of carbon monoxide poisoning due to known leaks, certain traps set for troublesome predators, and a faulty pressure valve on a water heater.
Depending on the property's location, traps for pest extermination can be very hazardous, and all traps on the property need to be clearly defined as they could pose safety issues for workers. Also, the homeowner is obligated to let any with access to the property know if the family pet is overly protective of its home or family.
When contracting for construction projects, it is imperative to have adequate insurance for any unexpected homeowner liability for contractor injuries.
What to Do if a Contractor Is Injured on Your Property
Accidents can and often happen on construction sites, so we always want to have homeowner liability for contractor injuries. Although you may be liable for injuries on your property, there are some mitigating circumstances, such as the extent of liability.
If the injury resulted from your failure to maintain a safe work environment, you could be responsible for the contractor's injuries. However, the contractor may be responsible if the contractor's injury was due to negligence or haphazardous work.
If a contractor has an employee injury on your property, you should immediately call 911 for any serious injuries. If you have any training, offer first aid and document with pictures of the injury scene.
Gather all the contact information possible for the injured person, then contact your insurance company and the contractor's insurance company if available. Depending on the severity of the injury, it may be advisable to contact an attorney and advise of the injury.
Takeaway
We have finally decided to pull the trigger on our home construction project, selected the contractor, budgeted the necessary funds, and are ready to begin the contractor work. So, what is next?
When working with contractors on home construction projects, you should address the many aspects of the working arrangement before commencing work. Completing the proper documentation, such as a Parties to Agreement and an SOW. Taking the time on the front end to correctly complete the documentation can save a lot of headaches later when engaged in the project.
Also, ensure all your homeowner liability for contractor injuries insurance is updated and has adequate coverage for the project. Depending on the project, this is also the perfect time to explore the availability of remodeling materials from discount stores like Amazon Warehouse, Costco, and Home Depot. Directly acquiring the materials might save you a significant amount of money.
Hopefully, our suggestions throughout the article provide tips and ideas on saving money, being prepared, and giving you the confidence to start your new home remodeling project.